Wedding Pizza
the perfect end to the perfect day, freshly cooked pizza served from our beautiful land rover defender pizza van.
Let us be a part of your special day by providing your guests with our delicious Wood-Fired pizza, prepared right in front of you and cooked in our Land Rover Defender Pizza Van for your wedding breakfast or evening reception. We will work with you to create a bespoke menu with the bride and grooms favourite pizza as the main event.
At Dough&Deer we love a wedding! We take great pride in working with couples to ensure the catering is the least stressful part of the planning and is a real talking point on your special day. So if you're a foodie with a love for quality, fresh ingredients or just love doing things a little differently then Dough&Deer are here for your wedding pizza needs!
Wedding pizza - Evening Food
This is our speciality! We usually suggest serving buffet style for evening food. We will work with you to bespoke a menu of your choice which we then cook fresh all evening so your guests can come and grab a slice as and when they wish. The perfect mid-dancing snack!
We provide everything you will need to keep your wedding guests well fed and fuelled for the dance floor.
Having just got married ourselves (no we weren't allowed to cater our own wedding sadly) we know how important it is that every detail is personal to you.
We like to pay attention to the small details so for a personal touch we can name the pizzas in line with the wedding theme or after something special to you both on our blackboard we will design for you.
WEDDING BREAKFAST pizza catering
For the perfect relaxed wedding feed, why not choose Dough&Deer to prepare and cook fresh pizza in front of your guests. We can cater for smaller wedding breakfast or less formal style weddings.
When planning your wedding breakfast its important to consider the time it takes too cook fresh pizza, each oven cooks roughly 70 Pizzas per hour and we can provide up to three ovens. So if you are looking for a less formal style wedding meal served over a slightly longer period of time then Pizza could be a great, cost effective choice.
Festival Weddings
If your planning a festival style wedding and need a mobile pizza caterer who is on brand with the theme of your day, then Dough&Deer could be a perfect fit! We love a festival wedding and can help create a flexible solution to your wedding catering needs.
Wedding Street Food is a great alternative to classic wedding food and we pride ourselves on offering a premium service. We work with lots of great street-food caterers so if you are looking for multiple van just get in touch and we can suggest some of our favourites.
Wedding Pizza Buffet
Our Wedding Pizza Buffet is the perfect way to feed hungry guests. We work with you to choose a menu of four Pizzas and decide on an amount that is suitable for your guest numbers. We will then keep cooking and serving fresh pizza on our oak Pizza boards so your guests can help themselves to slices. We prepare cook four fresh pizzas every 3-4 minutes - we challenge you to keep up!
Included in our packages are paper plates and napkins as standard so you have nothing to worry about other than finding us a space to set up.
Our pizza buffet comes with an optional salad bar which is ideal for wedding breakfasts.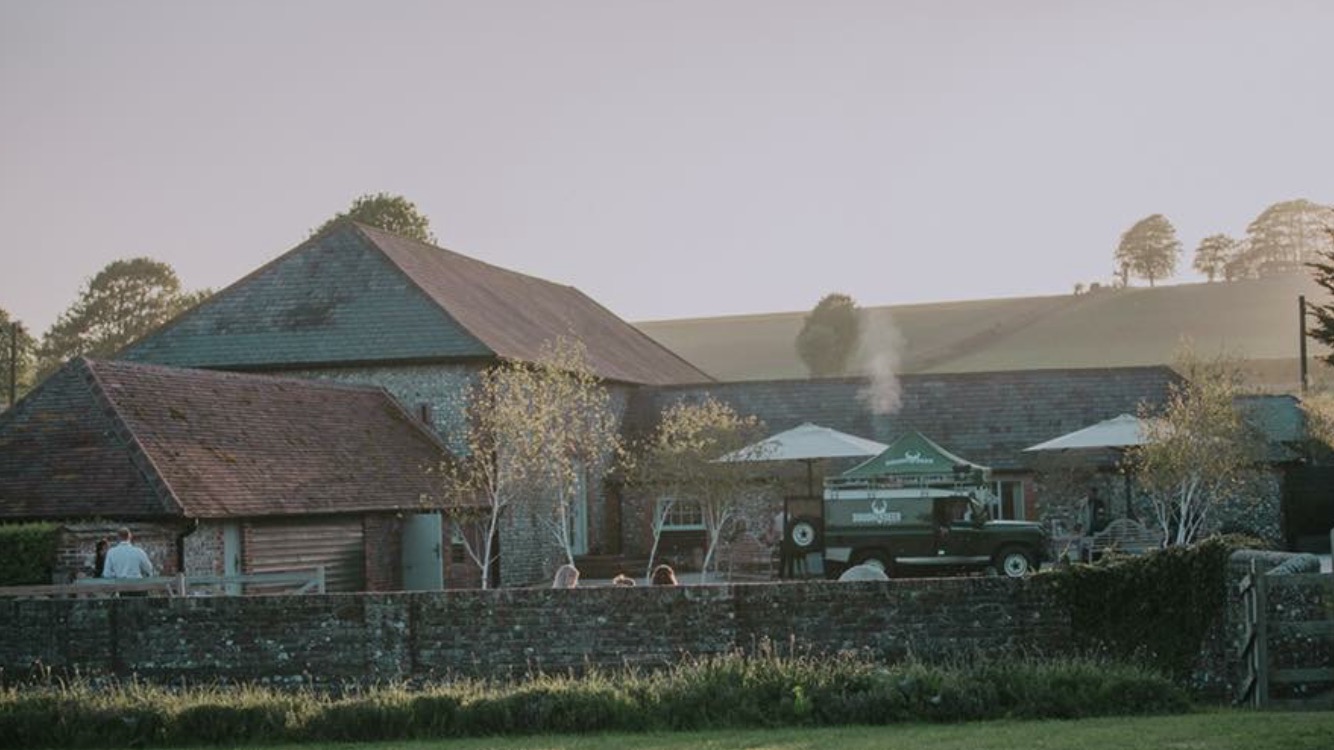 Our guide to planning your wedding pizza catering...
Our guide to planning your pizza wedding!
Freshly cooked, wood-fired pizza served from a mobile pizza van at your wedding…. yes please!
Having just got married ourselves we know how complicated things can get, lets face it, its not often you get to plan a wedding! Here are a few tips from us to help make choosing your pizza supplier for your wedding nice and simples…
Breakfast of Evening Reception?
Firstly, are you looking at Pizza for the wedding breakfast (main meal) or the evening reception? Pizza can work great for both, but it does get a little tricky for wedding breakfasts if you have large numbers.
Good mobile pizza caterers will prepare and cook everything fresh on site, this does mean that there is a limit to the rate that pizza can be cooked. Pizza is always best served directly from the oven so pre-cooking lots of pizza in our eyes isn't really an option - you don't want your guests eating cold pizza.
As a guide one of our ovens can cook up to 70-80 Pizzas per hour at full speed. So if you are looking to feed a large group, you'll need to keep this in mind. Serving 130+ guests fresh pizza in one go is near impossible!
We recommend wedding pizza, as main meal, for weddings with around 70-80 people max. For these sort of numbers we recommend our Pizza Buffet service, where we invite guests up, table by table to help themselves to fresh slices of pizza and an assortment of freshly prepared salads and charcuterie.
For evening reception food, Pizza really is the only choice! There is nothing better than freshly cooked pizza… Especially after knocking back a bottle of bubbles during those toasts! The beauty of Pizza is that it can cater for all of your guests regardless of dietary requirements - we can even provide gluten free bases and can cater for most common allergies.
Our Pizza truck also looks the part, fresh pizza served out of our modified Land Rover Defender Pizza oven is guaranteed to be a talking point at your wedding.
It is also a well known fact that eating wood-fired pizza at a wedding can improve ones ability to dance (this might not be completely true but lets go with it)… the perfect dance-floor fuel then! Oh… and it'll definitely reduce the hang-over the next day.
2. How much Pizza do we need?
This can be a complete minefield - You don't want guests to go hungry but you've already re-mortgaged three times to pay for the wedding so if we can keep costs down that would be great! Don't worry, we get it! The last thing we want to do is over-charge you and have loads of ingredients wasted.
We have been in business for five years now and catered 100's maybe nearly 1000's of events so we have a good idea of quantities. As a rule we suggest the following;
Wedding Pizza for Main Meal - if Pizza is the main meal then we suggest between 2/3rds - 1 whole pizza per person, so for 100 guests between 70-100 Pizzas.
Wedding Pizza for Evening Food - For evening food or if pizza isn't the main meal then between 1/2 - 2/3rds of a pizza per person. So for 100 evening guests around 60-70 pizzas.
You will know your guests better than us so if they are big eaters then we suggest the higher end of the scale.
The great thing about pizza is you wont have any waste! If there is any pizza left at the end of service, we will cook and box it up so at the end of the night your guest can grab a box to go.
3. Serving Buffet Style of whole pizza?
It often depends on the event but for weddings we always suggest a buffet style. If you have large numbers who want to eat all in at once, the last person to order is going to be standing around for a while. The last thing you want at your wedding is people queueing for food instead of filling the dance-floor.
Often people wont want to eat a whole pizza in one go at a wedding, the buffet works great as you can pop out and grab a slice as many times as you want throughout the night, you can also try a few different varieties instead of having to decide on one pizza from the menu. So no queues, eat as much or as little as you like and try different pizzas - The buffet is the wedding pizza winner.